Today we'll show you the top 10 Best Riding Mowers in 2023, and if your property is 1/2 Acre or Larger, why these are the best riding lawnmowers to check out.
We know mowing large yards is a big job, especially if you're using a walk-behind lawnmower. Today we'll check out the best riding mower for your size yard and discover the best features and prices you can find on these amazing lawn tractors.
Don't miss our Riding Lawn Mower Buyers Guide (end of the article), which is there to help homeowners choose the best riding lawnmowers for "their" specific needs.
Top Ten Riding Mowers – In 2023
Riding Lawn Tractors aren't Cheap – they're a significant investment. We've compiled our list of Best Riding Mowers for the Money – so you can decide which riding lawn mower is right for you.
Why We Like It
Some homeowners find themselves at the "in-between" position of having a lawn that's too big for a 42″ Riding mower but not quite big enough for an oversized 60-inch mowing deck.
The Cub Cadet XT1 not only fills the Top-Rated Riding Mower category in our riding mower reviews (and Nationwide), but the 46″ Mowing Deck also hits the "sweet Spot" for almost any homeowner.
Medium to Larger yards (1-2 acres) can be a timely chore with a smaller mowing deck, but with the XT1 and its 46″ Mower Deck, you will be amazed at how much faster you'll complete your lawn.
Boasting Commercial Grade features, this is no ordinary riding lawn mower. The Cub Cadet XT1 is a Premium Riding Lawn Tractor with Hydrostatic Transmission ((Hydraulic fluid vs. mechanical transmission)
With a large 23 HP – 7000 Series Kohler engine, an adjustable 15″ high back seat, LED Headlights, and S-blades designed to give the best performance and durability for a unique cutting experience.
Cub Cadet knocks it out of the park with this riding mower.
Cub Cadet is now considered one of the best lawn equipment brands (made in the USA) for gas-powered mowers for homeowners.
Cub Cadet XT1 LT46 – Video (Walk Through)
Specifications
46-inch Stamped Steel Mowing deck

Triple-Blade – Air Induction Technology built-in
HYDROSTATIC TRANSMISSION (Fluid Speed Transmission- No Shifting)

23 HP Kohler – 7000 Series – V-Twin, OHC engine

Change Reverse to forwarding Direction with Foot Controls
Top Speed 5.5 MPH
Large Pneumatic Tires
Cruise Control
LED Headlights
Easy Access Fueling – 4 Gallon Gas Tank
15″ High Seat Back

Rear hitch capability

Deluxe Steering Wheel

Mows in reverse

Clear-Cut Steel Cutting Deck

3-year warranty
Our Take Away
When reviewing the best lawn mowers, we found the Cub Cadet XT1 – 46″ mower to be one of the best-valued Riding Lawn Mowers on the market. In fact, this 46″ riding mower is equally equipped to the 42″ John Deere model – priced around $200 more, also making the Cub Cadet riding mower an exceptional value.
Cub Cadet – Editors Choice Best Riding Lawn Mower
CUB CADET "XT1" – RIDING MOWER
---
Why We Like It
Husqvarna is one of the best-known names in the lawn equipment industry, and we've chosen the gas-powered Husqvarna YTH22V46 as the Best Husqvarna Riding mower in the large size 46-inch Deck category – and as one of the best riding lawn tractors overall.
This Husqvarna Rider offers plenty of power thanks to the exceptional 22 – horsepower V-Twin Briggs & Stratton engine. In addition, this Husqvarna riding mower features a range of conveniences, an Electric Locking Differential for Superior Traction, Cruise control, a 10-position adjustable seat, and a super easy oil change system.
Specs
54-inch

mower deck

22 Horsepower Briggs & Stratton – V-twin engine

5.5 mph Forward and 2.5 mph Reverse speeds.
Electric Lock Differential (Increased traction)

Tuff-Tork – Hydrostatic transmission

Extra Large – High Back Ergonomic Seat with Armrests
Welded Steel Deck
Electronic Locking Differential

Fast, easy starting

3-year warranty
Husqvarna YTH22V46 – 46″ Riding Mower Video:
Our Take Away
Overall, we love Husqvarna products as one of the most sturdy and reliable brands in lawn equipment. And the 46″ – YTH22V46 riding lawn mower by Husqvarna is easy to handle, comfortable to drive, well-built, and produces a fantastic cut.
The electric locking differential provides the best climbing for steep or sloped yards, so If you need an excellent mower to mow a 3/4 acre or more considerable lot, this mower is our best 46″ riding lawn mower.
Runner UP: HUSQVARNA 46″ Riding Lawn Mower
HUSQVARNA
---
Why We Like It
As you continue, you will note that we're big fans of this John Deere 42″ Mower. And while the mowing deck is smaller (42″) than our Editors Pick from Husqvarna, this smaller deck riding lawn mower from John Deere still wins as our Runner Up for the best riding mower.
The John Deere 42″ riding lawn mower stands out as the best overall riding mower "package" in its class, with a V-Twin 22 hp Engine, Hydrostatic – foot pedal controlled transmission, tight 16″ turning radius, adjustable seat, and anti-scalp wheels.
Specifications
42-inch mower deck

22 -horsepower V-Twin John Deere engine

30-second Oil Change System
White-Glove "Home Delivery" From Home Depot

Lumbar-supporting seat

13- different cutting heights
2-Year Warranty
Easy starting

Hydrostatic transmission
Our Take Away
Thanks to its power, highly maneuverable 42″ mowing deck, and range of convenience features, the John Deere S120 – 42″ lawnmower is the best mower for any lot size up to 2 acres.
The John Deere is a fantastic choice riding mower for the money, especially if you plan to use a riding lawn mower with an optional bagging attachment here.
We would be remiss if we didn't include the John Deere S120 as one of the best-rated riding mowers on the planet. After, John Deere is the #1 riding mower brand in the country – just as long as you have the budget to buy it 🙂
For more significant properties and areas with thick grass, and if your budget allows it, we do recommend the Husqvarna 54″ Riding Mower (above) due to the 12″ wider cutting path..
John Deere – "Runner UP"- Best Riding Mower"
John Deere Mower
---
Why We Like It
It may surprise you that battery technology in the outdoor power equipment space has become so advanced that a battery can power a Riding lawnmower. Greenworks is an entry-level player in the Riding Mower battery-powered category, and in our opinion, you will not suffer any loss in performance with this mower.
The Greenworks CRT426 Riding Mower with (8) 8.0 Ah, lithium-ion batteries power this incredible riding machine with an equivalent gas power of 24 Hp.
Not only does this match the power of a gas-powered lawn tractor, but this achievement allows homeowners to enjoy the low-maintenance convenience of electric power in a piece of equipment that has historically been powered exclusively by gasoline engines.
Specifications
42-inch mower deck

(8) 60 Volt – 8.0Ah batteries included

Battery Recharge in 90 minutes or less.
Up to 6 Mph variable speed settings

Mows up to 2.5 acres per charge

USB Port + Greenworks Smartphone App Diagnostics

7-position deck

Dual Action Blades

LED Headlights

4-year

Tool and Battery

Warranty

Bagging kit available (but not included)
Greenworks 60Volt Riding Mower Video (From the U.K.)
Our Take Away
With No gasoline, oil changes, belts, spark plugs, air filters, or other maintenance issues, the Greenworks battery riding mower may be the most convenient riding mower built for today's busy homeowner.
But don't let its size fool you, as this mower can comfortably tackle up to two and a half acres of land on a single battery charge.
If you're looking to avoid exhaust fumes or are someone who doesn't have time to keep up with gas-powered maintenance, the highly-rated Greenworks 60 Volt battery-powered mower is one of our top choices.
In addition – If you already own other Greenworks battery lawn tools – the eight batteries included run that equipment as well!
Greenworks CRT426 – 42″ Battery-Powered Riding Mower
GREENWORKS
---
Why We Like It
Achieving "Best Value" in the top-flight brand "Cub Cadet," the XT1-LT42 is annually one of the most popular riding mowers for homeowners nationwide.
This garden tractor combines the ideal 42″ Mower Deck with a powerful 19-HP Kohler 7000 V-Twin engine, favored dual Hydrostatic Transmission, and all the bells and whistles most homeowners wish for.
While not the cheapest riding mower on our list, this is the Best Value Cub Cadet Riding mower – and The Cub Cadet XT1-42 is also one of the best for maneuverability and sloping yards or hills.
Specifications
42-inch Twin-Blade mower deck

Zero-Turn Radius
Steering Wheel Control

Kohler 7000 Series 19.5-HP Engine

IntelliPower throttle adjustment

Responsive handling

Heavy-duty steel frame – Lifetime frame warranty

3-year warranty on engine and parts

Hydrostatic transmission

Adjustable

Cutting

Heights

LED Headlights
Our Take Away
In terms of having almost every riding lawn mower feature you could wish for and with incredible value – the Cub Cadet XT1-LT42 checks all the right boxes. In addition, this riding lawn mower includes DUAL hydrostatic transmission, meaning the steering wheel turns all four wheels, making it an excellent mower for Hills or Steep terrain.
We were highly impressed with this riding mower and can recommend it as one of the top-rated riding lawnmowers for any lot up to 2 acres large.
CUB CADET XT1-42″ – Best Value "Cub Cadet" Riding Mower
CUB CADET
---
A solid performing brand is Troy-Bilt. This 30″ Riding lawn mower provides sufficient mowing capabilities along with the Best Value (and one of the Cheapest) Riding Mowers on the planet!
This Troy-Bilt mower is an excellent option for smaller residential yards (under 1 acre) or those needing a budget-friendly price. Its 12-horsepower engine isn't the most powerful riding lawn tractor. At the time of publishing, the price is under $1,900.00
However, you will still find the same quality construction and attention to detail that generations of homeowners have come to associate with the Troy-Bilt brand.
Specifications
30-inch mower deck

12-horsepower engine

Key Start
6-Speed Transmission + 4.5 Mph Top speed

Mid Back Seat

Compact 18″ Turning Radius

16″ Rear and 13″ Front Durable Wheels

Fade-resistant hood

Easy To Store

2-year warranty
Our Take Away
While the 11 HP TROY BILT delivers the convenience of the Husqvarna or Craftsman models with their 6-Speed transmission but with less top-end speed and, of course, a smaller mowing deck.
The Troy Bilt Neighborhood also is the top-selling cheapest riding mower you should consider, and there's still a lot to like here, including a highly maneuverable 30″ Deck.
If you're mowing a mid-sized residential yard and don't need vast amounts of power on tap, you'll find that the 12 HP Mower from Troy-Bilt is a great lawn tractor that will get the job done for you.
TROY BILT "Neighborhood" – Most Affordable Riding Mower
TROY BILT
---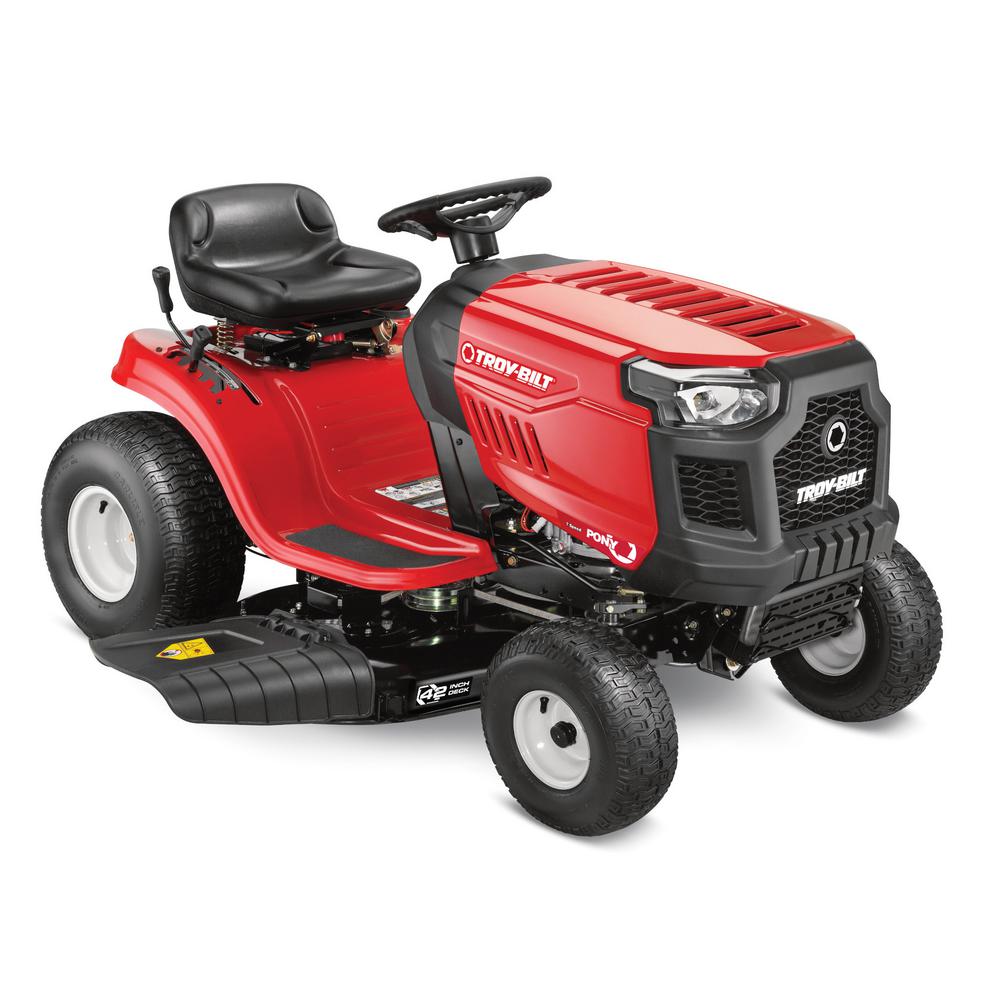 Why We Like It
When you first look at riding mowers for sale, you may be intimidated by the price tags you see. The Troy-Bilt Pony model is well worth the price if you're looking for a cheap riding lawn mower at the lowest possible price point.
With a 42-inch cutting deck and a 13.5 HP engine, the Pony provides plenty of power and capability, all at a price that almost any homeowner can reasonably afford.
Specifications
42-inch mower deck

439cc engine (13.5 HP)

Automatic headlights

Reliable starting

Anti-scalping tires

7-speed transmission

Mow-in-reverse optional

2-year warranty
Our Take Away
Even though it's a budget option, this Troy-Bilt riding mower has a lot going for it. Smaller engine size notwithstanding, the Pony has plenty of get-up-and-go – and will easily handle any residential lawn under 2 acres.
Overall, the Troy-Bilt Pony riding lawn mower is a perfect option for homeowners on a tight budget who still want or need to invest in a riding mower. This is it if you're looking for a top-rated riding lawn mower for under $1,900.00
Troy-Bilt "Pony" Best VALUE Mower 42″ Mower Deck
Troy – Bilt
---
The Super Bronco XP from Troy-Bilt is next on our list of best-value riding lawnmowers. This mower offers a much better than average OHV Troy-Bilt 16.5 Hp engine with a Hydrostatic transmission drive – a feature not typically found in riding mowers of this price range.
While the Bronco doesn't include the V-Twin engine – it does offer considerable savings over its big brother – The Mustang Riding Mower (above). Oh, and the Super Bronco XP Does have Headlights!
Specifications
42-inch Twin-Blade Mower Deck

Deck port wash included (using a garden hose)
Mow-In-Reverse option

16.5 HP Single Cylinder engine

Auto-Choke

Responsive handling – Standard Steering Wheel

Great for Hills and Sloping Yards

3-year warranty

Hydrostatic drive transmission

Variable Cutting Heights

LED headlights
Our Take Away
Founded in the U.S. in 1937, Troy-Bilt has built a solid reputation and is a highly respected lawnmower manufacturer. Note that the White Glove delivery service is not included for Troy-Bilt mowers; the homeowner will require some assembly after delivery. Overall, a great mower that has fantastic features at a great price.
Troy-Bilt – Cheapest 42″ Mower with Hydrostatic Drive
Troy-Bilt
---
Riding Lawn Mowers for Sale Near Me:
If you're interested in a particular mower featured in this article, click any of our links, and you will be directed to Amazon or Home Depot. You can review more details about that riding mower, place an order, and set up free delivery (where available – suppliers may vary).
Note: Most riding lawnmowers are shipped within 7-10 business days – an exact date will be confirmed at check-out.
---
Frequently Asked Questions (FAQ)
Q: What Is the Best Cheap Riding Mower?
A: If you're mainly concerned with price, the Troy-Bilt 30-inch Neighborhood model is the least expensive riding lawn mower. The Neighborhood offers reliable performance at a great price point and is highly maneuverable and perfect for small to mid-sized yards.
The Troy-Bilt Pony is another great option if you're looking to balance power and size with value.
Q: What are the Top 5 Best Riding Lawn Mowers?
A: The Top 5 Best Rated Riding Mowers are from Cub Cadet XT1-LT46, John Deere ST120, Husqvarna Z54, Greenworks 60V (Battery Powered), and the Troy Bilt "Neighborhood.
Q: What Is the Best Riding Lawnmower for 1 Acre or Less?
A: For 1 acre or less, we'd recommend the When considering top-rated riding mowers; we recommend the Cub Cadet XT1 – LT42 with a hydrostatic transmission, strong brand reputation, dependable warranty, great construction quality, and a 42″ mowing deck.
As an upgrade and for the Best riding mower for larger lawns between 1 – 2 Acres – We highly recommend the Cub Cadet Ultima Enduro – XT1- LT46 with a 46″ Mowing deck.
We also highly recommend researching the Zero-Turn Lawnmower before purchasing a riding mower. While they cost more, they are more nimble and faster for completing any large lawn.
Q: Where Do You Get a Riding Lawnmower Serviced?
A: In addition to your local small equipment shops, and For brands like John Deere, Husqvarna, Toro, and Troy-Bilt, you can easily have your lawnmower serviced at most outdoor power equipment dealers.
Q: Who Makes the Best Riding Mower
A: The Top 5 Riding lawn mower brands for the money are Cub Cadet, John Deere, Husqvarna, Troy-Bilt, and Toro. It's important to note that the best riding mower for you will depend on your needs, preferences, and budget.
Be sure to consider the size and slope of your yard, the price you're willing to pay, and the maintenance you're ready to perform – before selecting the mower that best suits your needs.
---
Riding Lawn Mower Buyers Guide
Grass grows fast, and Is there anything worse on a super hot day than spending hours pushing a lawnmower around the yard? Even with a self-propelled mower, it's a workout.
The solution: offering much higher speeds and cutting paths than walk-behind mowers, the best riding lawn mowers featured today will make cutting your lawn a quick, efficient – and dare we say – "fun job".
Our riding lawn mower buyers guide below – explains the most important features to consider when buying a riding mower:
Power
The amount of power a mower's engine puts out is one of the most important considerations when selecting your riding mower. More power allows a mower to deal quickly with uphill slopes, move faster, and cut through wet or thick grass.
The V-twin type engine typically boasts higher power ratings than single-cylinder engines, so you'll typically see them included on higher-priced riding mowers.
On the other hand, don't forget to peek at the top-rated Battery-Powered models above from Ryobi. With no spark plugs, gas, oil, or belts to worry about – they are gaining popularity fast with homeowners who have 2 acres or less to mow.
Transmission
Most riding mowers feature either a manual or hydrostatic transmission. Hydrostatic transmissions utilize a fluid system to seamlessly shift between gears, while manual transmissions require a lever to change gears manually.
Manual transmissions are incredibly dependable, but most high-end mowers offer hydrostatic transmissions as a more user-friendly feature.
Deck Size
As you may have noticed, a 42-inch mower deck is a standard for most riding lawnmowers on this list. 42-inch mowing decks work best on yards up to 2 acres.
If you have more than 2 acres to mow, we strongly recommend stepping up to a 48-inch or 54-inch model, such as the John Deere E160 listed under our Best Upgrade category.
Cutting Options
Most riding lawnmowers can mow using three cutting options: side discharge, mulching, and bagging.
Most mowers come set up to do side discharge and mulching but require the separate purchase of a bagging attachment to allow you to bag your grass clippings.
The Ryobi 38″ battery-powered riding mowers in our reviews can be purchased with or without the grass bagging attachment.
Wrapping Up
As you can see, if you're in the market for a great lawn mower, there are some fantastic options.
The Cub Cadet XT1-46″ comes in as our top choice for the best riding mower, with the S120 from John Deere coming in as a close runner-up.
Finally, in the category of the most affordable riding mower, the Troy-Bilt Neighborhood was our selection for the best value in the standard 42-inch mower deck category.
Although these riding mowers represent our top three picks in each category, the best lawn tractor for you may be one of the other models on this list.
The best pick for you will depend on your yard size, terrain, and budget, but the ten mowers on this list should give you a great start in your search for a new riding mower.
(Disclosure: Best Home Gear is an authorized Home Depot Affiliate and Amazon (we are not sponsored, but do make a small fee if you choose to buy at Home Depot or Amazon through one of our links).
Thanks again for visiting Best Home Gear – and Please don't hesitate to leave us a Comment or Suggestion Below!
Additional Reading & References: