This guide will show you How to build a DIY compost bin with Pallets. With a quick trip to a pallet supplier and hardware store, you can quickly build a very inexpensive compost bin in one day – or less!
If you have a vegetable garden, you already know that commercial fertilizers and soil additives can be costly.
A great way to get around that extra expense – is to build a do-it-yourself homemade compost bin, and turn organic matter from your yard and kitchen into nutritious food for your plants.
Easily one of the quickest and easiest ways to build a DIY compost bin is to use cheap (or free!) wooden shipping pallets.
Today, we'll show you everything you need to know about how to make an easy compost bin with pallets, and we'll also help you learn a little about composting along the way 🙂
How to Build Compost Bin With Pallets
The simplest design for building a composting bin – using pallets, is the simple "three-sided" method. See the instructions below for a "single" 3-sided compost bin
Materials Required:
3 – pallets (sized according to your needs – 4 pallets if you're adding a door)
6 -"galvanized" metal corner brackets – with galvanized screws
1 – roll of chicken wire – Enough to wrap the entire compost bin inside.
3 – heavyweight galvanized strap hinges (optional door)
1- galvanized gate latch (Keeps Optional door closed)
1 – staple gun (to attach chicken wire to the bin)
1- a bale of Straw (optional)
Step 1 – Start Building
To build this compost bin, start by attaching the three pallets with galvanized (weather-resistant) metal corner brackets and screws.
We suggest three brackets per corner because corner brackets offer much more stability than simply nailing or wiring the pallets together.
When you're finished, you will have three boxes with an open top, bottom, and front.
Step 2 – Add Chicken Wire
Now take your roll of chicken wire, and attach it to the inside of wooden pallets using the staple gun.
In case you're wondering – chicken wire helps keep the organic material from falling through the gaps between the pallet boards – the wire still allows the compost to "breathe" and break down quickly. Folks that avoid this step – often add it later!
Step 3 – Add Door to Compost Bin (Optional)
For more convenience, and to keep the varmints out – we highly recommend modifying this pallet design slightly – by adding hinges to one of the pallets and creating a handy – but very useful compost door.
This extra step can be very worthwhile as it will let you access your finished compost – without having to dig it out of the bin from the top.
A door also makes the compost heap far easier to turn over as needed.
A couple of Tricks If you choose to add a Door
Grab a friend and set the finished pallet bin on four bricks or pavers high enough to allow the door to swing freely.
Build your compost bin to allow for door "clearances" before adding a door – at least 1" gap per side.
Step 4 – Add Front Ledge (Optional)
Assuming you're not installing a door (Step 3), You may consider adding a front ledge to keep your compost from spilling out. To do so, add scrap dimensional lumber across the bottom front of your compost bin opening.
The ledges can be made to any height you desire.
That's it – You're done!
Now it's time to start your compost pile – New to composting – check out this article composting 101
Other Compost Bin Ideas
Before you start this DIY project, check out some other compost bin ideas below. Because when it comes to making a home composter bin, there is an infinite number of compost bin ideas. Here are a few of our favorites:
Multiple Compartment Compost Bins
Some folks want to "stage" their compost pile into a New material pile, 50% composted pile, or Ready to use pile. As they clean out the ready material bin, they move the 50% ready compost material to the ready compost bin, the current new compost to the halfway bin, and so on.
This type of compost rotation allows you to have at-ready compost at any time for your garden and keep an "open compost bin" available and ready to start a new compost pile.
Another method for using the three compost bin design – is to keep three separate compost piles going simultaneously – keep track progress of each compost pile and turnover as needed.
This way, you don't have to move the compost from bin to bin.
Compost Tumbler
This is a pretty easy DIY compost bin idea using lumberyard materials and a 50-gallon plastic drum.
Plastic containers
Plastic containers such as old storage tubs or trash cans can easily be converted into compost bins – by simply drilling a few holes for air circulation.
DIY Rotating Compost Barrel
Likewise, an old metal drum can be turned into a helpful compost container with just a few simple modifications. This range of compost bin options begs the question – why are wood pallets the best choice?
To assemble this easy and very effective – Rotating Compost Bin :
Buy the materials – This idea calls for 1- 36" galvanized steel pipe, 2 PVC grommets (plumbing supply), 2 x 6 treated lumber, and a plastic compost bin with a lid – like this one.
Build the wood stand, drill holes in both sides of the barrel to allow for grommets and rod, and drill multiple 5/16" holes in the lid for aeration, insert PVC grommets in the barrel and steel pipe.
Now you have a fantastic DIY composter and an easy way to tip compost into a wheelbarrow!
Buy a Ready To Use "Rotating" Composter
Does DIY the version sound like too much work? You can buy this ready-to-use composter at Amazon instead.
$10 Patio Compost Bins
Use a Rubbermaid plastic bin – Drill holes 8-10 holes in the bottom; add compost.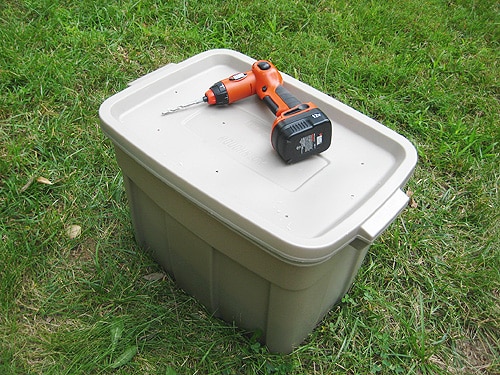 Corrugated Metal Compost Bin
One Very sturdy and fantastic idea is to make a corrugated metal compost bin. This design below – includes metal walls, an open front (no door), and three bins.
---
Frequently Asked Questions (FAQ) Pallet Gardens
Why Use Wood Pallets for Compost Bin?
Simply put, a wood pallet garden compost bin – offers the best combination of durability, capacity, and low material cost.
How Long Do Wood compost bins Last?
A DIY compost bin built – from sturdy shipping pallets – can sit in nature for many years without any issues. However, some are even treated chemically to prevent rot, which we'll discuss later.
How "Big" Should I Make My Compost Bin?
The size you can make a wood pallet compost bin is unlimited – you need to calculate the amount of compost you will use annually, then build the size of your compost bin (or compost bins) accordingly.
How Many Compost Bins Do I Need?
Some folks want to "stage" their compost pile – New, Half-Way, or Ready. As they clean out the ready material bin, they move the halfway ready compost material to the ready compost bin and the current new compost to the halfway bin.
This rotation allows you to have at-ready compost and keep an open compost bin to start a new compost pile.
How Much Does A Pallet Compost Bin Cost?
Regarding material costs – it's often possible to find pallets for free. In that case, you can build your DIY composter for nothing more than the price of some "chicken wire and cheap hardware." It sounds like the makings of a good ole country song …..
Should I Put a Lid On A Pallet Garden Bin?
Sort of a personal question 🙂 But If you want, you can easily add a lid to your compost bin using an extra pallet (or two) and a pair of hinges to flip it out of the way when accessing compost.
The Lid can then be covered with a plastic tarp or another material to keep heavy snowfall, critters, ( or kids) out.
Remember, a compost pile needs water and air to break down organic material – so in most conditions, we recommend either leaving the lid up most of the time or not including a lid at all – leaving the top of the bin open altogether.
Looking for Some Backyard Privacy? Check out our Recent Post: Cheapest Way to Build a Privacy Fence
Where Can I Get Wood Pallets?
Before making a pallet compost bin, let's briefly talk about where you can get pallets for little to no cost.
1. You should look first on your local Craigslist page, as people often put pallets up for free just to get rid of them.
2. If you don't locate any free pallets in your local classifieds, consider going to local businesses – to see if they can supply you with a few pallets they no longer need.
3. In a worst-case scenario – you may need to spend $2-3 to pick up a pallet or two from a local supplier, but even at this price, the material is pretty cheap – compared to buying new lumber.
Important: An essential thing to look out for when picking up wood pallets – Is a stamp labeled "MB" on the pallet. The MB designation indicates the wood pallet has been treated with a toxic chemical that you shouldn't be using or putting in your garden – and, therefore, anywhere near your food sources. Read More about using safe pallets here.
Check out this YouTube video – What to look for when selecting pallets:
---
How Do I Start a Compost Pile?
Now that you know how to make compost bins, such as the ones described above – it's time to put a little thought into getting your compost pile started.
Step 1 – Straw Floor
Lay down a thick layer of straw on the floor of your compost bin.
This will keep the weeds and grass down and prevent finished compost from washing into the soil – at least until the composting pile is well underway.
Step 2 – Pile it On
Start placing organic material into the bin. Most experts recommend alternating layers of wet and dry materials for the best results.
For example, you might put in a wet layer of fruit and vegetable refuse from your kitchen, followed by a dry layer of leaves or grass clippings.
You can also add a commercial compost starter to your pile for accelerated results to get it going. If you're new to Composting – Check out this article below:
How To Make Compost – Composting 101 – From Morning Chores.Com
Step 3 – Keep Your Compost Pile Moist
Once you have your DIY compost bin built and your pile started, you'll need to take a few extra steps to maintain it.
First, make sure the pile remains moist enough. While compost piles don't need to be soaking wet – you should place your compost pile close enough to a garden hose and water source to maintain enough moisture in the compost to squeeze a drop or two of water from it by hand.
If the heap gets too dry, use a garden hose to moisten it. You'll also need to turn the pile occasionally to mix the materials.
Step 4 – Don't Forget To Flip!
While some composters swear by turning their compost frequently, but most experts agree that you only really need to turn the pile over once or twice during the 60-day composting process. For this, you can use either a shovel or a sturdy pitchfork.
---
Conclusion
Now you know how to make a compost bin with pallets, start a compost pile, and make garden compost.
Armed with this knowledge, you're well on making your own cheap and abundant garden fertilizer – and of course – achieving the best flower and vegetable garden you've ever seen!
Got some other tips on building a garden with pallets? Let us know by leaving a comment below!
Additional Reading and References: